A very powerful and deep cyclone with strong cold front rips through the UK today and continues towards the Denmark and Netherlands later today. Accompanied by intense winds along the leading frontal convergence as seen in radar imagery below. This image shows a very well-defined cyclone with its center just NE of UK on the latest scans. Notice the convective squall-line along the front crossing SE UK, as well as spiral rainbands around the center low to the north.
A view from the satellite:
There have already been reports of very intense and severe gusts from the UK, locally exceeding 100 mph = 160 km/h! Here is the latest report from MetOffice:
Stormy conditions affecting parts of the United Kingdom.
Gusts of 105mph have been reported at Malin Head; 102mph Edinburgh, Blackford Hill and 85mph at Gogarbank; 97mph Islay; 92mph Macrihanish; 92mph Drumalbin; 91mph Glasgow, Bishopton Airport and 84mph Prestwick Airport. Much of the rest of the UK is also experiencing very windy conditions, gusting 78mph at St Bees Head, Cumbria and 69mph at Mumbles in South Wales. Updated 11:05 03/01/2012
Source: Met Office website
The system will rapidly continue towards east when SFC front comes onshore over continental NW Europe. The frontal passage will be characterized with intense/severe winds as well as possible tornado given the impressive wind field/LL shear and helicity in place. More details can be read from ESTOFEX's outlook for today: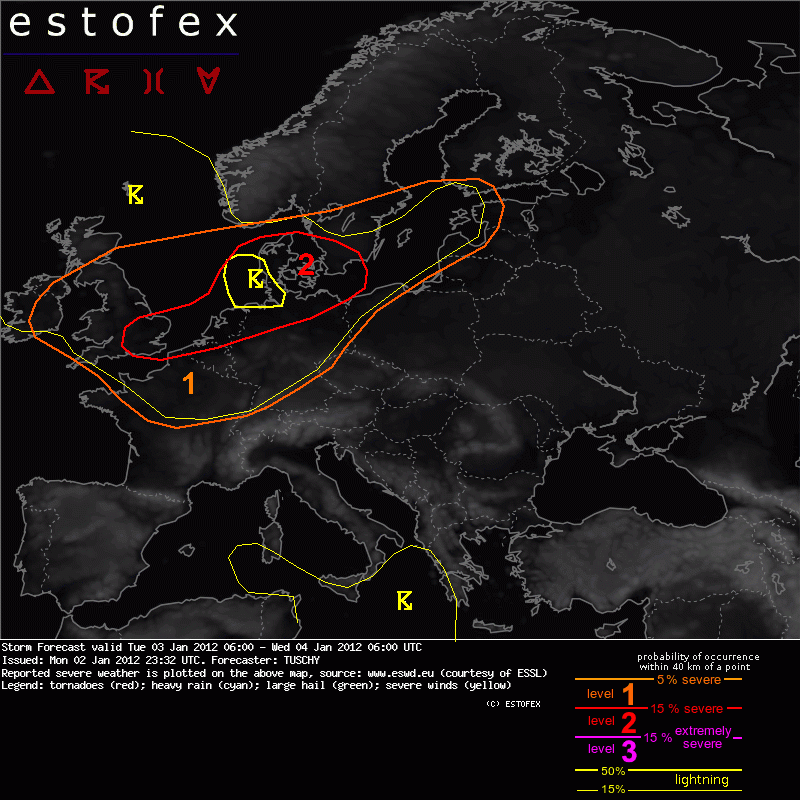 A level 2 was issued for SE-UK, the Netherlands, N-Belgium, N-Germany, Denmark and adjacent offshore areas mainly for severe to damaging wind gusts. An isolated, strong tornado event can't be ruled out.

… Parts of Ireland, UK, parts of the North Sea, Netherlands, parts of Belgium, N-Germany, Denmark, S-Sweden and the S-Baltic Sea….

The first feature of interest will be the eastward racing cold front, which moves off Ireland during the start of the forecast, then affects UK during the morning hours, Benelux during the afternoon hours and N-Germany thereafter. Of interest is the concurrence between the strong surface front and an IPV streamer, which are both well co-located in past few model runs. Propelled by a stout PVA max, the cold front passage will be pretty active in form of a forced line of convection (LEWP-like) and a solid line of enhanced convection is expected to race eastwards (e.g. over SE-UK, the Netherlands and Belgium, N/NE-Germany, NW Poland and parts of the Baltic Sea). A potent 30-40 m/s 700 hPa jet points into the backside of the cold front with 25-30 m/s at 850 hPa. Forecast soundings hint at a deeply mixed postfrontal air mass and numerous severe to damaging wind gusts are well possible along the cold front. There is not yet an indication that a concentrated swath of damaging wind gusts evolves along the cold front, so the level 2 was cut off onshore pretty fast. Also, with SRH values running off the chart, we can't exclude embedded, rotating cells with a tornado risk. With expected LL CAPE/shear overlap, even an isolated strong tornado event is possible. The cold front gradually outruns strongest wind fields as the depression over SW-Norway slows down, so the overall risk gradually diminishes further east over the Baltic Sea. However, we decided to expand the level areas far to the east as the weakening phase of forced, convective lines are not well handled in global model fields.
The activity gradually diminishes south of the level 2, as the front drops to the south over France and W-Germany. It becomes aligned more parallel to the background flow and will be left behind strongest forcing to the north, so degree of organization becomes less betimes. Nevertheless, sporadic thunderstorms are possible as far south as CNTRL/E-France and S-Germany with cold front featuring either a more solid LEWP or numerous smaller narrow cold front rainbands. Strong/severe wind gusts will be the primary hazard.
Source: ESTOFEX outlook for Jan 3rd 2012
Stay tuned!